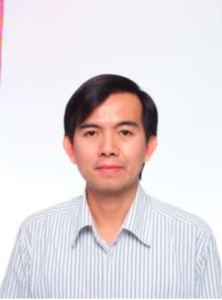 Title: Design and optimization of Meta-mountable UHF RFID tag antennas
Miniaturization techniques for UHF RFID Tag antennas
Recent Development of Flexible UHF RFID Tag antennas
Prof. Eng Hock Lim
Contract: limeh@utar.edu.my
University Tunku Abdul Rahman (Malaysia)
Biography:
Eng-Hock Lim was born in Selangor, Malaysia, in 1974. He received his B. Sc. (Electrical Engineering) from National Taiwan Ocean University in 1997, M. Eng. (Electrical and Electronic Engineering) from Nanyang Technological University in 2000, and Ph.D. (Electronic Engineering) from City University of Hong Kong in 2007. He served as the Associate Editor of the IEEE Transactions of Antennas and Propagation from 2013 to 2016. Currently, he is also serving as the Associate Editor (2021-2023) of the IEEE Journal of Radiofrequency Identification. He is a Professor at Universiti Tunku Abdul Rahman (UTAR) and the Chairperson of the Center for Communication Systems and Networks. He is the founding chair of the IEEE Council on RFID, Malaysia Chapter, and the IEEE Malaysia Distinguished Lecturer for 2019-2020. His current research interests include RFID antennas, reflectarrays, and multifunctional antennas.
Prof. Lim has been very active in academic research and scientific development. To date, he has published 1 research book (Wiley), 2 book chapters (Wiley and Springer), 75 international refereed journal papers, and 46 conference proceeding papers. He has published 41 papers in the IEEE flagship journals including 30 in the IEEE Transactions on Antennas and Propagation (IEEE TAP, impact factor: 4.435), which is the most prestigious journal antenna design internationally. He also has 4 papers in the IEEE Journal of Radiofrequency Identification. His current Scopus H-index is 18 (citations: 964) and Google H-index is 21 (citations: 1443). He is also the co-inventor of 18 patents (14 United States, 2 China, 1 Malaysia, and 1 Hong Kong). Prof. Lim's key expertise mainly focuses on antenna design. He is a pioneer in the research field of multi-functional dielectric resonator antennas (DRA). As one of his most important contributions, he was the first to propose the use of the DRA as a multifunctional device. His innovation has made a single resonator to be usable for designing multiple microwave components such as amplifier, filter, and oscillator at the same time. This has been considered one of the most important achievements in the development of the DRA. Prof. Lim is also actively involving in the R&D activities of the RFID technology and he has been working closely in joint-R&D projects with many local and multinational companies such as MDT Innovations Sdn. Bhd. (annual turnover: RM300,000,000) and SAG (Taiwan). Prof. Lim has published many impactful papers in the field of RFID. He was the first to show the possibility of designing miniature tag antennas using the low-cost flexible substrate, where he has demonstrated the design methods for several miniature folded-patch tag antennas using the softlon materials (with dielectric constant of around 1) and flexible thin PET. This is an important breakthrough as tag antennas can now be designed without needing conventional printed circuit boards, significantly reducing the material and manufacturing costs of RFID. It has also enabled the tag antennas be applicable for wearable applications. The market size of RFID is about USD 16.18 billion in 2019. Most of the on-metal RFID tag antennas in the market now are only able to reach 3 – 4 meters. Prof. Lim has proposed many new design methodologies that have enabled the on-metal RFID tag antennas go beyond 10 meters. He has 24 papers related to RFID tag antenna design in the IEEE Transactions on Antennas and Propagation and the IEEE Journal of Radiofrequency Identification. He won the Inventor Awards 11 times when he was working for the Seagate R&D Center, Singapore.
Over the years, Prof. Lim has been invited as the plenary/keynote/tutorial speaker of a few national and international conferences including the IEEE Asia-Pacific Conference on Applied Electromagnetics. To date, he has received and secured RM3,140,335.34 (Project Leader and Principle Investigator) of research funds from various local and international organizations such as SAG/UTARF/CREST/MOSTI/MOE/MOHE/Nano Malaysia. So far, 7 PhD and 13 Master students, all by research mode, have graduated under his supervision. Currently, he is leading a research group consisting of 1 associate professor, 1 assistant professor, 1 postdoctoral fellow, 6 PhD (research), and 4 Master (research) students. He has been an active speaker of the community outreach programs to promote science and technology. Prof. Lim was elected as the IEEE Malaysia Distinguished Lecturer in 2019 and, since then, he has given many physical/virtual talks to more than 1000 students and academicians.